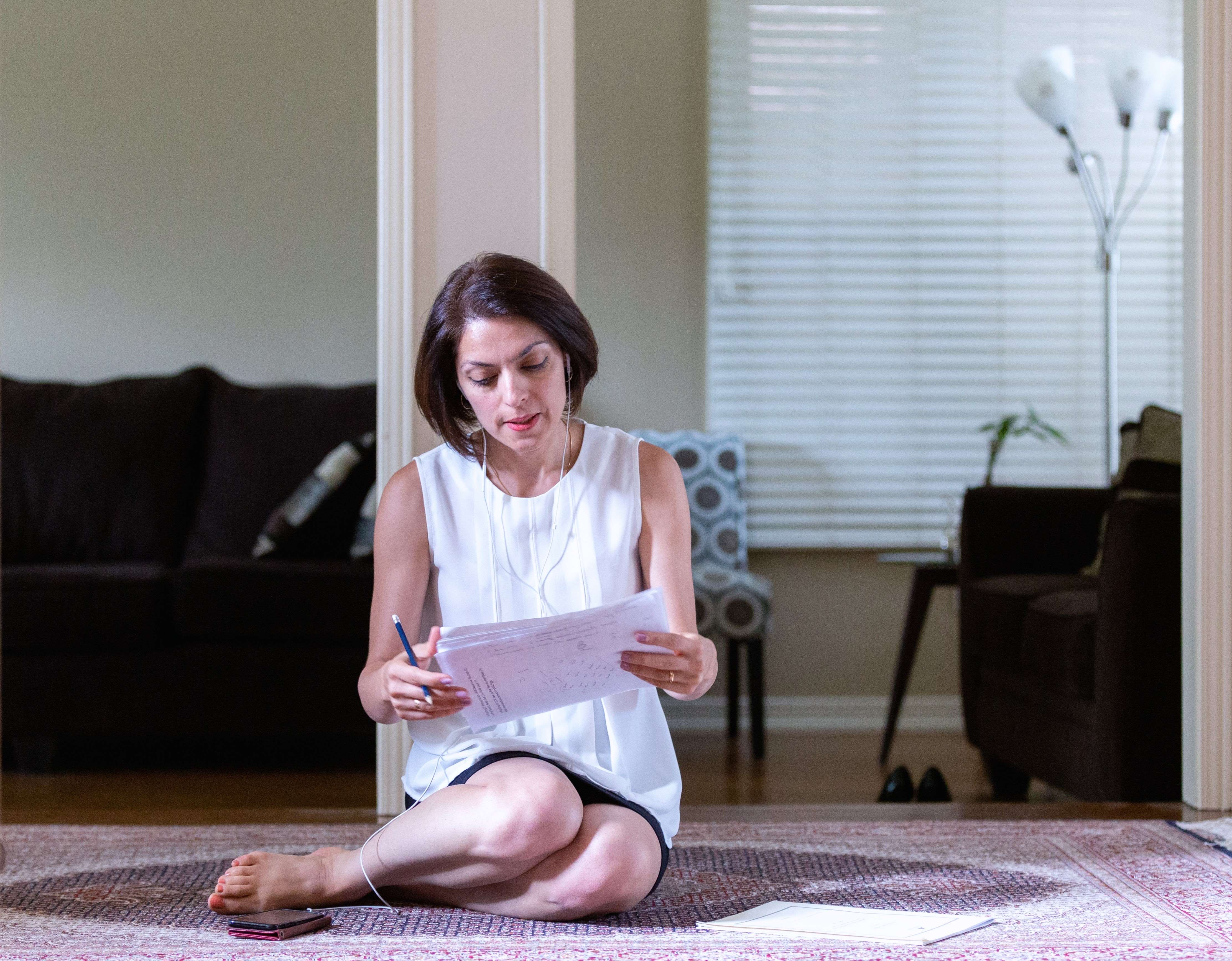 ​
Biography
Imagination, innovation, and storytelling are at the center of Dr. Sabet's creative practice. A musical language that is equally modern and accessible, inspired by her Iranian roots, Western education, and passion for socially engaged arts, she aims to engage in cultural dialogue with diverse communities. Her sonic landscapes evoke emotions, conjure images, and tell stories, often about pressing social issues. 
Dr. Sabet  is a composer of electroacoustic, acoustic, and film music. Her most recent interdisciplinary work, Silent, was inspired by the Black Lives Matter movement in Toronto. Commissioned by the Charsu Quartet, and supported by the Canada Council for the Arts, she collaborated as both a composer and sound artist to create a media-music-performance work inspired by Wind-Up Doll, a poem by controversial modernist and iconoclast Iranian poet, Forugh Farrokhzad (1934 – 1967). Blue Girl is another of her recent works: a three-channel project created in collaboration with visual artist Raheleh Saneie, Blue Girl honors the stories of  women who self-immolate as a form of protest against domestic violence and forced marriage. Presented at the 2020 virtual Nuit Blanche Festival, it was recognized by Now Toronto magazine as a "Stellar Highlight" of that year's arts scene. Blue Girl was subsequently presented as part of the 2022 iteration of Toronto's Nuit Blanche festival, in Mel Lastman Square. 
In her academic work, Dr. Sabet focuses on Persian culture, and the synthesis of Western and Persian musical languages. In 2013, the Social Sciences and Humanities Research Council of Canada supported her study of a Persian folk dance, Čūb-Bāzī ("dance with sticks"). Although banned in Iran, Čūb-Bāzī is still secretly performed: her orchestral composition, Those Still Dancing, arose from her findings. 
As an educator, Dr. Sabet is committed to providing students with the tools they need to explore creative self-expression, break boundaries, feel inspired, develop an authentic artistic identity, and become a source of inspiration to others. Her current research-creation project, No Need to Vanish, focuses on developing, designing, and producing contemporary learning resources that are practical, accessible and innovative for musicians from diverse personal and educational backgrounds. Her goal is to support emerging composers as they develop their artistic identities, tell their stories and share their unique perspectives. 
She also embraces roles as a cultural leader. Dr. Sabet serves on the Board of Directors, and as Chair of the Governance and Nominating Committee of the Aurora Cultural Centre in suburban Toronto. Additionally, she uses her audio production skills to produce Farsi-language podcasts about social issues for the Persian Baha'i Media Service in Washington DC, where she has been a producer since 2014.
Through her various socially engaged artistic initiatives, Dr. Sabet strives to foster harmony among diverse people. In 2019 in Toronto, her production The Dawn Initiative, funded by the Ontario Arts Council and others, presented world premieres of music by an international lineup of composers, including Sabet herself, who crafted pieces to inspire social unity. Previously, as co-artistic director of the Israeli-Iranian Musical Initiative, she produced new-music concerts that featured compositions by herself and two Israeli composers. With lead funding from the Toronto Arts Council, the performances celebrated Jewish, Israeli, and Iranian cultures, and attracted appreciative listeners with varied backgrounds, who would not normally be found in the same room.
Her debut album, A Cup of Sins, was released on August 26, 2022. With funding from the Ontario Arts Council and the Canada Council for the Arts, the recording includes a variety of her acoustic and electroacoustic works, all of which address issues of human rights, persecution, oppression, violence against women, and freedom of speech. 
Dr. Sabet earned a Doctor of Musical Arts, a Master of Music in composition, and a Master of Music Technology and Digital Media from the University of Toronto, with distinctions including the Mirkopoulos and Miller/Khoshkish fellowships, and the Tecumesh Sherman Rogers Graduating Award given to a musician on the cusp of making important contributions to the field. Among her teachers are Christos Hatzis, Keith Tedman, Kyong Mee Choi, Ka Nin Chan, and Stacy Garrop.